Spire Technology
A bespoke e-commerce website, fully integrated with Access Dimensions
About the Company
Spire Technology Ltd are a trade-only computer distributor, servicing a nationwide network of independent computer resellers. Established in 1990, they have seen steady growth in the field of trade only computer distribution, which has turned them into one of the UK's leading distributors of computer components, peripherals and consumer electronics products. Operating from their 28,000sq. ft. premises in Verwood, Dorset, Spire employs over 40 members of staff contributing to their sales team, purchasing, accounts, customer service, technical, marketing, and warehouse.
Requirements Overview
Our relationship with Spire began back in 2008 when they were originally looking to incorporate their website with their Access Dimensions database, used for account and stock management. The objective was to allow their customers to have access to personal, and often-complex pricing structures online, and to be able to place orders both on account using their agreed credit terms, as well as via an online payment integration. On top of this, their customers would need access to their account history, view statements of account, and be able to print their copy invoices.
Finally, a website administration area would need to give Spire complete control over how the website would be organised, ensuring product categorisation and filters were available and easily managed by their web team. Solweb were selected to take the project forward, which would include the redevelopment of a new website to work alongside a new Data Synchronisation tool (which would become The Data Bridge), and to automate the sales process.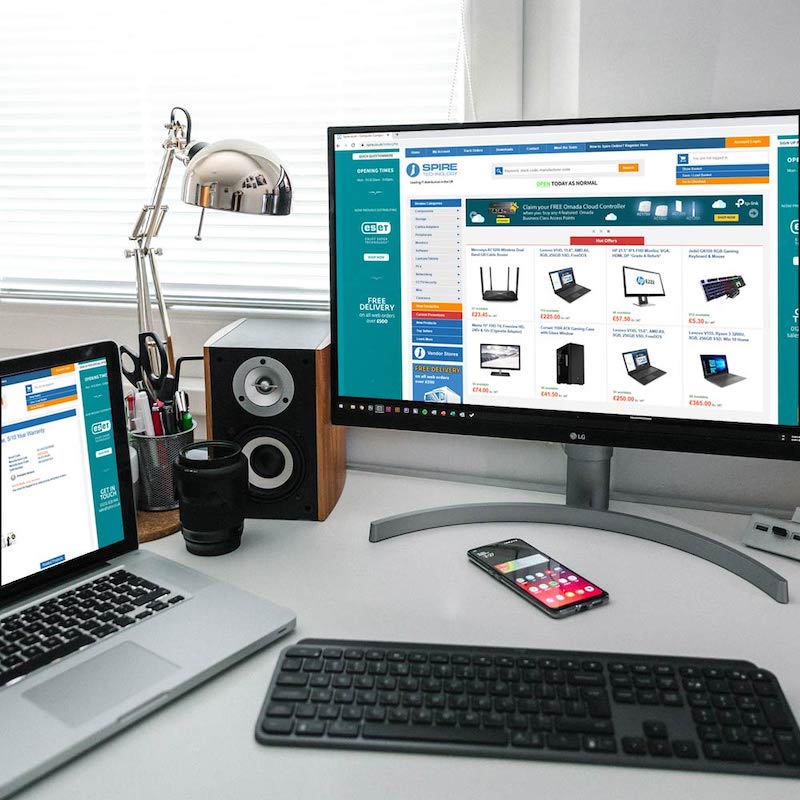 The Data Bridge
Automate Data Transfer To Save Time
Solution
Like all our projects, Solweb worked closely alongside the client in order to make sure we developed a website that was in keeping with their company branding and their current infrastructure. The core website was implemented, and demonstrated the ability of Solweb to deliver a solid and reliable solution, as well as our ethos to work closely alongside our clients to ensure our solutions continue to grow and improve along with their business. This is one of the core reasons why Spire has seen the continued success of their website over the years.
Since the original implementation, the website has been continually reviewed and updated. This includes routine updates and improvements (both aesthetic and functional) which usually happens every 6 – 12 months. There have also been some major overhauls which have seen the addition on much larger features, and greatly increased the level of automation and integration.
The current version of the website integrates not only with Access Dimensions, but also with several other custom applications we have written for other aspects of their business. This includes a Sales Order Overlay for the sales team, improving the efficiency of the internal sales process, and also a Returns System that allows customers to submit RMA requests on the website, which are then automatically processed into their local system.
Outcome
The website, now running for over a decade, has been managed and maintained by our Web Portal Solution (which includes The Data Bridge) and has been a continued success. The CMS (Content Management System) allows Spire to control the pages within their own website whilst safe in the knowledge that they don't need to be trained in web development.
The most recent iteration of the website initially allowed Spire to advance their online sales revenue by over 400% after the first year. Since then, the website has gone from strength to strength, with online sales more than doubling since then, and they continue to break their sales records every month. This demonstrates how a dedicated website team, both at Spire and Solweb, can work together and produce results than continue to exceed expectations.
If you're out there and you're looking for something with your software to make you more efficient, and if it's just an idea, go and talk to them. I cannot recommend them highly enough
John Appleton